Welcome to Good Works Reprocessing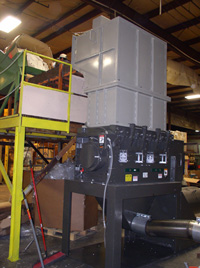 PVC, Packaging films (flexible or rigid), PET, PETG, Polyethylene, Nylon. ABS; the list of material that we process is almost endless. Whether your material is in the form of parts, purgings, lumps, or chunks, Good Works Reprocessing can reclaim your valuable scrap.
All material is carefully inspected for contaminants before processing. Our experienced staff has the skills necessary to ensure that your material is processed to your specifications.
We are proud of our dedicated personnel that take the time and care to ensure that all of our clients receive the finest quality and service.

Latest News

ORLANDO, FLA. (April 13, 12:30 p.m. ET) — Good Works Reprocessing LLC is a new business focused on custom size-reduction services including pulverizing, blending, grinding, metal and contamination removal, repackaging, classifying, fines removal, and certified destruction.
Behind the operation is President Dan Sheehan, who resurrected a family business with a core group of other employees. Good Works operates out of a facility in Easton, Pa., originally designed and built by Nicos Polymers & Grinding Inc. of Nazareth, Pa